One of my favorite attractions at Walt Disney World is Splash Mountain. This ride combines all the things needed for an awesome attraction.
Splash Mountain has a great story. Based upon the animated sequences in Disney's
Song of the South,
the attraction follows Br'er Rabbit and his journey looking for adventure. He is closely followed by Br'er Fox and Br'er Bear who are looking for their next meal. However, no matter how hard they try Br'er Rabbit is able to out smart them and get away.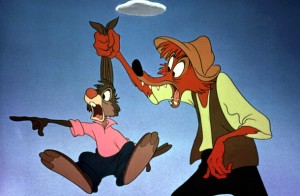 Splash Mountain has wonderful music that will surely deliver a toe tappin' good time. With 3 original songs ("How Do You Do?", "Ev'rybody's Got a Laughin' Place", "Burrow's Lament" ("Laughin' Place"), and "Zip A Dee Doo Dah" for the big finale, you'll definitely be humming these songs all day long! Take a listen below:
Splash Mountain has dozens of animatronic characters and when combined with beautiful scenery, this attraction is a delight for all those who hop into the logs. The original version of the ride in Disneyland opened in 1990 and reused many of the critters from the America Sings show. This attraction became so popular that it was duplicated at Magic Kingdom at WDW and Tokyo Disneyland just 3 years later.
This photo shows several animatronic animals in just this one scene.
Finally, my favorite part of Splash Mountain is the thrills! With several drops and lifts (and the infamous 5 story freefall) this ride packs in lots of fun during its 10 minute duration. Don't let the big drop keep you from riding (at least once), there are many fun things to see on your way to the briar patch. I wouldn't say this ride is scary, but you may want to talk through it with smaller (and more timid) guests. It has dark periods and one of the smaller drops happens in a dark tunnel with little warning. With a little forewarning, anyone who meets the height requirement should have a great time. Just don't be these guys: