We have used the Disney Dining Plan on every visit to Walt Disney World since 2006. That's a total of 7 vacations of stuffing my face with really great food. Now, the cost of the Dining Plan has increased annually since 2006 but I still believe it holds value, especially when it's free! (See previous post
Free Dining
) In this post you'll learn my tips for how to use the Dining plan most effectively.
First a quick disclaimer: The Dining Plan isn't for everyone, please do lots of research to determine if it's a good idea for your family. There are many sites who cover that. For the purposes of this post I'm assuming you are committed to the Dining Plan and looking to maximize your eats.
Disney offers three levels of the Dining Plan - Quick Service, Standard, and Deluxe. I recommend the Standard plan. The deluxe is too much food and time required to sit down and eat, while the quick service is only fast food. You can learn more about the plans
here
. The Standard Disney Dining Plan includes 1 table service meal, 1 quick service meal, and 1 snack per person per night, plus a refillable resort mug. In this post I will only cover the Standard plan.
How it Works
When you check in to your resort you receive your Key to the Kingdom Card (Now a Magic Band). This card is used for your room key, park ticket, meal credits, and to charge to your room anywhere on property. Below is one of my old cards from a previous vacation. When ready to use a meal credit (Quick Service - QS or Snack Credit -SC) tell the cast member behind the counter before you order. When eating at a Table Service (TS) restaurant your waiter/waitress will usually ask if you have a dining plan. If not be sure to let them know when they greet you. After each purchase or meal your receipt will show the remaining credit balance for the type of credit used.
My KtW card from 2008, the current cards look a little different.
The Snack
Each person in your party receives one snack credit per person per night. This may not seem like it's enough, but I promise you'll struggle to use them up by the end of your visit. You can use snack credits anywhere on WDW property including many places at Downtown Disney. Snacks available on the Dining Plan usually includes most items around $5.00 and below. You can find an unofficial list at this
LINK
. Our favorite snacks are anything from an ice cream cart, funnel cakes at Magic Kingdom's Sleepy Hollow, pretzels in Epcot's Germany (paired with an Oktoberfest beer), and Minnie's Bake Shop giant cookies found at most resort food courts. If it's your last day and you have too many credits to use, I recommend buying the cookies or rice krispy treats to take home with you because they travel well (if you don't eat them up on the way to the airport). Disney clearly marks all snacks using the logo below on menus and price tags.
Quick Service
Over the past several years Disney has continuously updated their Quick Service offerings to include healthier food and a broader selection. This is a huge improvement over the countless burger and chicken nugget spots around the Parks. Also, you will never go hungry at a QS location if you choose right. Each QS credit includes a drink, entree, side, and dessert. The portions are very large and easily split among 2 adults in many cases. For example: at Flame Tree Barbecue in Animal Kingdom you can get a 1/2 BBQ Chicken with baked beans and coleslaw, plus a drink, and a dessert (key lime mousse for me). That is a ton of food!
Courtesy of Kingdom Hopping
Be Their Guest exclusive tip right here:
So here is how you really extend your Dining Plan. Assume your a family of 4 with two adults and two children under 10. The Quick Service credits don't discriminate between child and adult. So you can order your kids an adult meal if they choose. And even better you can split 2 meals between the party of 4 and be able to eat two QS meals in one day. Plus if you plan a TS dinner, you will have breakfast, lunch, dinner, and 4 snacks to make it throughout the day. Like I said, you will not go hungry on the dining plan.
Table Service
One of my favorite moments of each day is sitting down to eat a great meal in the Parks or Resorts. Now some of you may cringe at eating in a Theme Park or at wasting your Park time sitting down but I highly recommend it and here's why.
Disney restaurants have great food!
Taking a break, especially if you have kids, is a must.
The restaurants are air conditioned.
Disney Cast Members provide great service.
The Table Service credits include a drink, entree, and dessert. Some restaurants have specialty shakes or smoothies that may be included as your drink, be sure to ask your server if you see something you want to try. Any children (under 10) on your plan must order from the kids menu. They will have something your child will eat and include a coloring sheet and crayons. We typically bring a couple toys to entertain our kids because the wait may be a bit long (usually less than 15 minutes depending on the crowds).
Disney will allow you to make reservations up to 180 days out. I highly recommend making reservations soon after you book your trip. You can always change them or make more if needed. We like to mix up our table service meals between breakfast, lunch, and dinner. In a 7 night trip we will have 2 breakfasts, 2 lunches, and 3 dinners. Character meals are a great way for your children to get time with your favorite pals. We like to book Character breakfasts very early inside a park or at a Magic Kingdom resort. If you book your meal before the Park opens you are allowed in to walk to your breakfast reservation. You have the chance for some great photo ops with no one around. Also, if your kids aren't early risers, one look and Mickey walking to their table will really perk them up! On days we plan to leave the park early we usually book a lunch in the Park since its a good way to rest and cool off without returning to your room. On full park days we will leave and let everyone rest/nap in the room at midday. Afterwards, we will grab an early dinner at a resort restaurant before heading back to the Park.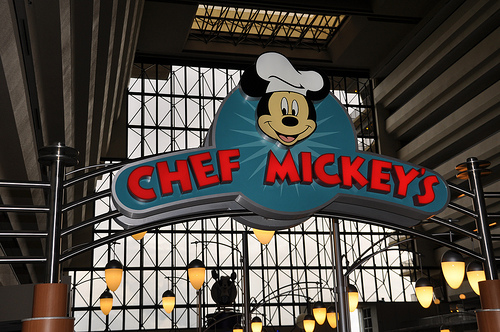 Courtesy of mouseforless.com
Lastly, remember tips are not included in the Dining Plan. You will need to budget accordingly for your trip. I usually estimate $15-20 per meal for a family of 4.

Signature Dining
Several Disney restaurants are considered Signature Dining locations. At a signature dining restaurant you will find high quality food, beautiful decor, very prompt service, and they are kid friendly. Sounds great, what's the catch? A Signature Dining establishment uses 2 table service credits per person. That may sound like to big hit but I'll pass on a tip that should allow you to eat at least one time during your stay. The dining plan allots credits per night you stay. For example, your trip consists of 8 days and 7 nights, but don't immediately assume 7 table service meals. Usually on your travels days you will arrive in the late afternoon the first day and leave by noon on your last. Cramming in a sit down meal in a short window is hard to do, so here is what I recommend. Skip a table service meal the first and last days and combine that credit with another during a full day of your vacation. Then you can experience fine dining without the out of pocket costs (though I would gladly pay out of pocket at many Signature Dining locations).
Another Be Their Guest exclusive tip:
Many Signature Dining locations offer a cheese sampler plate as an appetizer, but you may be able to get that instead of a dessert. Ask your server about this if you like cheese.
My hope in writing this post is for you to maximize your dining plan (whether free or paid). Visit the blog soon to see where I recommend using your dining credits and what are my favorite entrees. Thanks for reading!